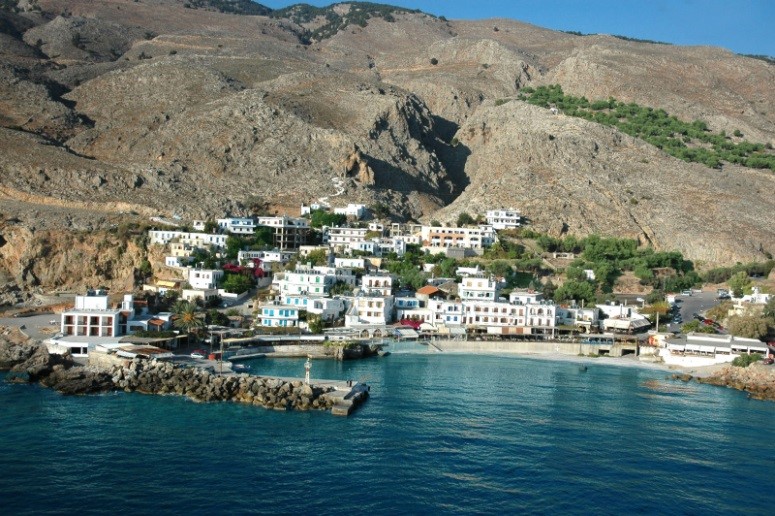 Agia Roumeli is located in the Sfakia area on the southern coast of the prefecture of Chania, between Hora Sfakion and Paleochora. Agia Roumeli became known because the path from the Samaria Gorge ends here. The thousands of visitors who walk through Samaria Gorge every summer end up here to take the ferry that will take them to Loutro and Chora Sfakion (east) or to Sougia and Paleochora (west).
The White Mountains (Lefka ori), with their high peaks and their deep canyons, keep Agia Roumeli isolated. The village is small, no road reaches here and all the traffic is carried out with ferries.
How to get to Agia Roumeli
Walk through the gorge of Samaria. If you have the opportunity to stay in Agia Roumeli, then go to the gorge at noon and you will have the chance to walk it alone, since all the groups come early in the morning. In Agia Roumeli you will arrive after about 6 hours, the time that the last hikers will leave.
By the boat from Hora Sfakion, which makes several routes daily in the summer.
With the boat from Paleochora and Sougia, which arrives in the morning and returns in the afternoon, giving you the opportunity for a beautiful day trip to Agia Roumeli and the lower part of the Samaria Gorge.
You should be aware that there is no safe harbor in Agia Roumeli, but only a small pier, making it difficult to bay. The result is to interrupt the services when the weather is bad in the area, so you may be ruled out in Agia Roumeli for 1-2 days.
Agia Roumeli today lives from tourism and in particular the 350,000 visitors walking the Samaria Gorge.

It is a great relief for the one who has walked a few hours in the Samaria Gorge, to cross the last 2 kilometers after leaving the national park and to see the first houses of Agia Roumeli. Once you have secured the return ticket, and you have enough time until the boat arrives, you can enjoy the food at one of the many taverns, cool off with a juice, coffee, refreshment or a frozen beer, or dive into the crystal clear waters on the beach of Agia Roumeli.